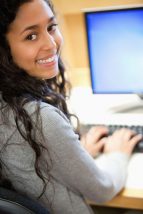 If you enjoy typing, are highly organized, precise in your work and are able to obtain the required certification, then hospital billing may be right for you. Keeping patient records confidentially and handling customer service issues are also necessary requirements. Getting an education in hospital billing will allow you to perform tasks such as compiling data, determining patient charges and handling all billing issues.
As a hospital billing clerk, you will be able to assign the appropriate codes for keeping medical records. You will be communicating with medical insurance companies and providing billing for hospital patients. By learning the appropriate computer software, a hospital billing clerk is able to record the corresponding numerical codes in order to record and bill each procedure properly.
The Advantages of Learning Hospital Billing
When you choose a career in hospital billing, know that you are going down a road of success. The U.S. Bureau of Labor Statistics reports that the demand for hospital billing clerks is expected to grow 20% between the years of 2010 to 2020. As a hospital billing clerk, you can expect to earn an average of around $33,450 per year. Payscale.com reports that medical billing agents with one year or less experience can expect to earn between $9.96 and $14.41 per hour.
As a hospital billing agent, you may find work in a wealth of different arenas. You can work at a clinic, a hospital, an urgent care center, insurance company and medical supply corporations. You may also find work at nursing homes, pharmaceutical companies and home health care agencies. Earning an associate's or bachelor's degree in health information management or medical insurance management will open up more doors for you.
Internships may become available for you during your educational process. This will allow you to have a hands-on approaching to learning the business. You will begin by learning general coding methods and preparing insurance documents. Through an internship, you may learn how to use Medisoft software and how to read ICD-9 manuals, as well as HCPCS and CPT manuals. Getting this experience in an internship setting will give you real career experience to take with you to your first employer.
Perhaps you already work for a doctor's office or other medical establishment. Getting an education in hospital billing can advance your career in so many ways. Getting proper certification from a reputable establishment is sure to put you on the fast track to career success.
How Do I Begin?
You can learn a career in hospital billing as long as you have earned a high school degree or a GED. Learning may take between 6 months and 2 years to finish. Hospital billing agents may choose to complete a coding certification curriculum in order to get started. This will allow you to earn an entry-level position in the field. Moving beyond this, hospital billing clerks may choose to earn a 2-year associates degree or a 4-year bachelor's degree in health-related information technology. In general, opportunities for career advancement are more readily available to those who have chosen to earn a degree in this field.
If you are considering a career in hospital billing, rest assured that you are entering a field with many possibilities for career advancement.
Source
http://educationportal.com/articles/How_to_Become_a_Billing_Clerk_Education_and_Career_Roadmap.html http://education-portal.com/articles/Hospital_Billing_Clerk_Job_Information_and_Requirements_for_a_Career_as_a_Hospital_Billing_Clerk.html http://education-portal.com/