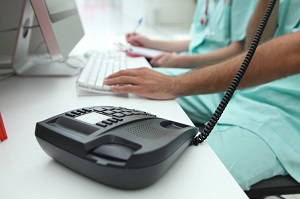 Healthcare billing and coding specialists are in high demand! According to the United States Department of Labor, the job market for medical records and health information specialists is expected to grow by 15% from 2013 through 2024, faster than the average for all other occupations.¹
Why such a high demand? Recent healthcare laws giving more people access to health insurance and an aging population have created more doctor's office and hospital visits and therefore more records. More healthcare information management professionals are needed to code those records.
Additionally, the federal government has mandated that the previous medical coding system, ICD-9, be updated to ICD-10. ICD-9 contained 17,000 codes; the new system, ICD-10, contains 140,000 codes. The dramatic increase is expected to lead to a 50%-70% drop in medical coders because some will be overwhelmed by the increase in new codes and will prefer to retire rather than conform to the new system.²
What do medical records and health information specialists do? Essentially they support medical professionals by ensuring the accuracy and integrity of medical records and by complying with established guidelines.
A medical coder for example, may begin the day by reviewing patient records, understanding patient treatments and assigning appropriate diagnoses and procedure codes for patient care, population health statistics and billing purposes. Medical coders usually work within fairly tight production schedules and may be expected to complete a certain number of notes per day. Their duties will vary depending on the type of employer, and of course, maintaining accuracy and patient confidentiality are essential.
Even though most medical coders work independently, they will frequently need to communicate with medical professionals and peers to help understand the issue and select the proper code used by insurance companies to determine how much they reimburse a doctor's office or hospital. Coders typically rely heavily on ICD-10 and CPS codebooks as well.
Salaries for medical coders range from $24,000 to $60,000 and are dependent on experience, geographical location and the type of employer.
With such a high demand for medical records and health information technicians, there is no better time to start training for this challenging career than today! With specialized, flexible training in Medical Software, Healthcare Information & Management, Records Management and more, CCI Training Center can put you on the fast track to a rewarding new career in the Healthcare Information Management industry!
For more information, please contact CCI Training Center at 214-763-9889 (Dallas, TX) or 817-592-9399 (Arlington, TX) or log on to www.ccitraining.edu.
¹ http://www.bls.gov/ooh/healthcare/medical-records-and-health-information-technicians.htm#tab-6
² http://www.rasmussen.edu/degrees/health-sciences/blog/healthcare-industry-struggling-to-fill-medical-coding-jobs/