The Right Stuff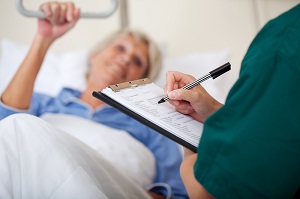 To say that nursing is a noble profession is a profound understatement. Licensed nurses are fearless, highly trained women and men committed to saving lives. They help to heal and comfort the sick and injured and they need to constantly keep up with always changing medical technologies.
However, before you take steps to becoming a nurse, be certain that it is the profession you are absolutely passionate about. Understand that being in a nursing program is a daily commitment, that there probably won't be a day in the next two years where you won't be working on your education. Consider this also─there will be blood and other unpleasant things that nurses need to deal with on a daily basis. You need to be sure that you are up for the immense responsibilities that come with a nursing career.
Nursing Programs Are Highly Competitive
Registered nurses are in high demand. According to U.S. News and World Report¹, "The Bureau of Labor Statistics projects the profession to grow 19.4 percent over the next 7 years. The field is projected to add more jobs than any other health care occupation during that time." However, even with the growing demand for nurses, getting into a nursing program can be very difficult because nursing programs are highly competitive.
Most community colleges that offer nursing programs have limited space and are therefore highly selective about the candidates they allow into their programs. The bar is set very high for nursing candidates. Often with a GPA of 3 or less, a candidate would not even be considered. Schools are also not just looking at a candidate's aptitude, but also their passion and willingness to commit to what will be a long and arduous journey to be a nurse. Prerequisites like biology, anatomy or physiology may be required before entering a program, and if accepted, you still could end up on a waiting list.
Healthcare Career Options
Another option might be to consider training in a related healthcare field, such as medical assistant, phlebotomy technician or medical insurance specialist. These programs would allow you to work in the medical field, perhaps in a hospital, clinic or doctor's office, where you could spend a year, maybe two, getting to know the healthcare field. Once in a healthcare environment, you may see other opportunities that will interest you and you may also meet other medical professionals from whom you could gain insight and who might potentially help you with your career path─you can always use good references! If you've determined by then that you absolutely want to be a nurse, you will have gained valuable knowledge and work experience (not to mention those references) in healthcare which could help you get into a good nursing program.
A Very Good Place To Start
A very good place for you to start your path to a healthcare career is at CCI Training Center. CCI Training offers a variety of accelerated career training programs including, Health Information Specialist, Phlebotomy Technician, Medical Assisting and others that can help prepare you for a rewarding career in the medical field. CCI Training Center has many years of experience in delivering hands-on, exceptional medical training, with programs to meet your busy lifestyle. For more information contact a career development specialist at 214-382-0370 (Dallas, TX) or 817-719-8083 (Arlington, TX), or email CCI.
В№http://www.usnews.com/education/community-colleges/articles/2015/06/10/prepare-for-stiff-competition-to-get-an-associate-degree-in-nursing