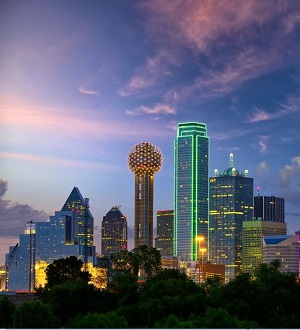 A new report has confirmed what everyone knows: Dallas-Fort Worth is one of the best places to live.
The DFW population is booming with new residents taking advantage of reasonable housing prices and an active job market. US News & World Report has released their rankings of the best places to live in the US , and understandably the Dallas-Fort Worth metroplex ranks high on the list. We came in as fifteenth best city to live behind other major cities such as Austin (1), Washington (4), and Boston (8), among others.
The list compared housing, job accessibility, living costs, health care, and education facilities in the 100 biggest US cities. Dallas-Fort Worth metroplex scored well on all accounts, sitting below the national average for housing costs, crime rates, and unemployment.
DFW's own Silicon Valley
While the population increase doesn't seem like much fun during rush hour traffic, it's great news for your job search. The job market is flourishing along with DFW's population. A tech boom in the North Dallas area, just near our Dallas campus, has US News predicting new startups will create even more demand for entry-level IT positions.
Another US News & World Report ranking, this time of the 2017 Best Jobs, placed Computer Systems Analyst as eight in the entire list, and first in technology jobs. Meanwhile, Glassdoor's 50 Best Jobs in America report placed IT jobs in the top three places, with technology jobs dominating their entire list. LinkedIN's list (discussed further below) listed Linux amongst the IT industry's top desirable skills.
CCI Training Center can help with adding Linux to your resume, within their Computer and Network Administrator program. This program prepares you for in-demand Support Technician and Network Administrator positions created by the tech boom.
If you think supporting people with their computer systems is your thing, check out these listings for Computer Support Technician and Help Desk Technician in the Dallas-Fort Worth metroplex. Alternatively, if you like the idea of implementing and managing entire computer systems check out these DFW Network Administrator listings.
More people, more health services
The entry level positions don't stop in IT, with health and administration services getting a look in too. Health Care and Social Assistance registered as one of DFW's top industries, while medical administration and pharmacy skills rated highly in the inaugural LinkedIN Most Promising Jobs of 2017 list. In-patient physician and pharmacist ranked first and second respectively, while Medical Director came in at number 20.
Half of the US News's 100 Best Jobs were in the healthcare category, with a high demand for medical support workers evident, according to a recent US News article. CCI Training Center provides a range of courses that cover the top skills required in these positions, including electronic medical records management, healthcare information technology, and medical assistants.
For those interested in the healthcare industry, you can check out local Dallas-Fort Worth jobs for Medical Records Technicians, Health Information/Billing & Coding, and Medical Assisting at Indeed. If you think pharmacy is more your scene, have a look at CCI's pharmacy technician program and explore these listings for Pharmacy Technicians.
Health & IT: growth industries
Speaking to Business Insider, chief economist Dr Andrew Chamberlain said job search website Glassdoor's list reinforced the continued potential of the technology and healthcare industries. Dr. Chamberlain highlighted the importance of flexibility, creativity and judgment as a way for employees to stay relevant in industries at risk of automation.
"Those are aspects of work that are extremely difficult to automate, and having them allows workers to team up with technology to become more productive, rather than simply being replaced by it," he told Business Insider.
These 'soft skills' are becoming increasingly important, as we will discuss next week in our new CCI Careers Blog How-to Guide. Skills like creative problem-solving are a big plus in IT, while healthcare requires a caring personality as well as "the ability to form personal relationships and to be flexible," Dr Chamberlain said.
US News & World Report predicts a solid job market for 2017 with unemployment down and an expected growth in jobs of 6.5% by 2024. Again, healthcare is tipped to be an industry to watch, with US News pairing it with the business sector as 2017 growth job markets. IT continues to feature with US News predicting long-term growth in the tech industry.
Gain in-demand skills at CCI
To find out how you can take advantage of the job opportunities currently available in DFW, contact CCI Training Center by filling in the information request on this page. Alternatively, you can call our Dallas campus at 214-763-9889 or our Arlington Campus at 817-592-9399.