What is the Current Job Market like for Computer Network Administrators?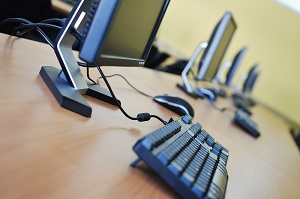 As digital technology continues to change and grow, the need for skilled professionals who have the knowledge and expertise required to administer computer networks will increase as well. The Department of Labor's Bureau of Labor Statistics' own website reports that, as of 2014, there were 382,600 people employed in the computer network administration field. Looking into the future, the Bureau of Labor Statistics estimates the number of jobs in this field will continue to grow by 8% annually for the years 2014 through 2024.
Common Computer Network Administrator Courses to Build a Solid Foundation for Growth
Computer network administrators are expected to understand and manage a number of complexities related to current and evolving computer network technology. As a result, computer network administrator certification programs involve training across a wide array of competencies and skill sets.
Here are some common industry certifications:
1. CompTIA A+ Certification
Sponsored by the Computing Technology Industry Association, this certification pertains to the competency of an entry-level PC computer professional. The exam tests students on knowledge required for the installation, customizing, operation, and support of personal computers.
2. CompTIA Network + Certification
Recognized throughout the world, this certification indicates you have the skills and knowledge needed to design, set up, and manage wired and wireless networks. It also certifies that you have the knowledge needed to troubleshoot problems and issues in these environments. Since this is a vendor neutral certification recognized worldwide, CompTIA Network + certified professionals are in high demand throughout the world.
3. CompTIA Security + Certification
Individuals interested in network security-related certification can train specifically for the kinds of knowledge and technical skills required for creating and maintaining secure networks. Typically, those with Security + certification are highly valued for their broad knowledge, advanced technical skills, and expertise across a number of security-related fields.
4. Cisco CCNA Certification
The Cisco Certified Network Associate (CCNA) Routing and Switching certification is intended for entry-level network engineers. In general, CCNA certification serves a dual purpose: it increases and enhances your knowledge of networks while increasing the value of your employer's network. It certifies that you have the knowledge and skills needed to install, configure, and operate medium-sized networks that are routed and switched. It also certifies your ability to troubleshoot network issues in this environment.
5. Microsoft Certified Solutions Associate (MCSA Windows Server 2012)
While the above provide an excellent foundation for any network administrator, mastery of Microsoft is essential. As a result, the successful network administrator should complete courses necessary for certification as a Microsoft Certified Solutions Associate (MCSA).
Considering Computer Network Administrator Certification Courses
When considering a certification program, it's important to consider other services and opportunities available through a program. Most computer network administrator certification programs should offer some combination of the following in addition to your course of study:
Job Fairs: Once completed, certificate holders need an opportunity to meet potential employers interested in hiring a computer network administrator.
Internships: An internship is a great way to acquire on-the-job skills, establish industry connections, and earn money. A certification program should offer students internship opportunities.
Resume Assistance: Resume styles and preferences change. Your program should offer assistance in writing and reviewing your resume to ensure it meets current industry expectations.
Interview Coaching: Understanding what employers are looking for and how to present yourself in the best possible light is important. Programs should offer students guidance and coaching when it comes to preparing for interviews.
Student Services and Counseling: Working students, or those with special needs and circumstances, often need support and counseling. Your program should have various support services to promote the successful completion of your certification program.
CCI Computer Network Administrator Certification
CCI computer & network administration certification is equal to 30.5 semester credit hours, requiring students to complete 648 classroom hours of training. The certification program provides a thorough overview of the following topics:
Microsoft Office
IT Professional Communication
A+
Network+
Introduction to Routers and Switches
Advanced Concepts in Routing and Switching
Client Operating Systems
Active Directory and Client Operating Systems
Security+
Career Development
Contact CCI Today to Learn more about Our Certification Program
If you are interested in pursuing a career in computer network administration, contact CCI to learn more about our certification course and how CCI can help you.
Dallas Campus – 214-763-9889
Arlington Campus – 817-592-9399